HOW I LOST 7KG IN JUST 2 WEEKS WITH HCG PROTOCOL DIET
March 13, 2019
|
Best diet to lose weight fast, hcg australia, HCG DIET, HCG Diet injections, HCG Diet reviews, HCG Drops, HCG Protocol, HCG Protocol injections, How much weight can I lose on the HCG Diet, How to lose weight fast, Weight Loss Injections, Where to get HCG Injections, Where to get weight loss injections
HOW I LOST 7KG IN JUST 2 WEEKS ON THE HCG PROTOCOL DIET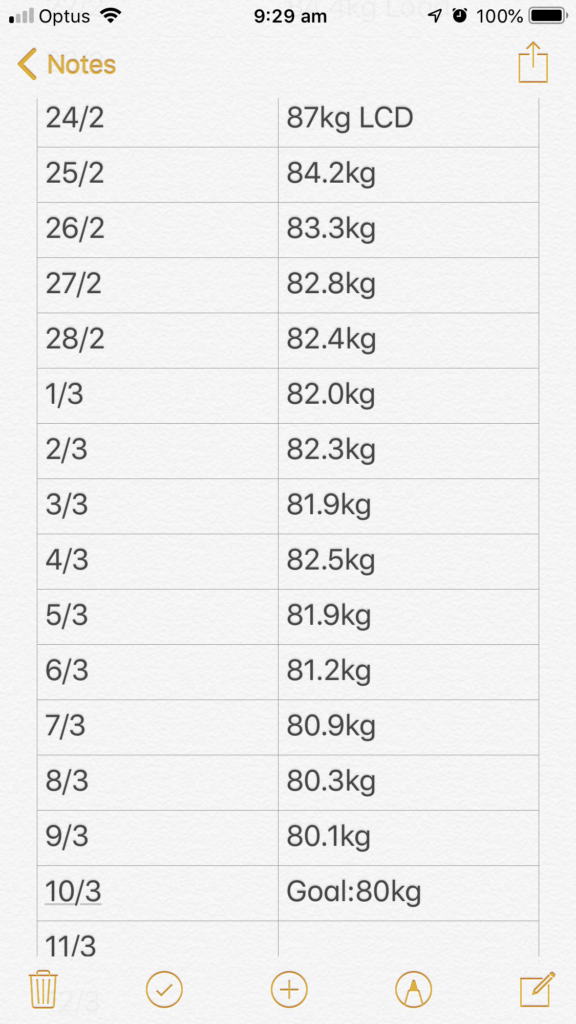 Everyone has a different journey on our HCG PROTOCOL diet however if you want to get an idea of what is possible, the attached image is from one of our female patient (using HCG Injections) who tracked 2 weeks of her weight loss in late Feb/early March this year; going from 87kg down to 80.1kg in just 14 days.
Fat loss in not necessarily linear – meaning not always the same amount every day and weight can go up and down a bit along the way (as the attached demonstrates) which can be due to a little extra water retention or just as a result of your body going through the fat loss process – and for females can slow or stop approaching your menstrual cycle, which was the case in this instance (where we recommend you stop for at least 2-3 days and recommence after).
However when you look at the overall picture – a loss of 7 kg in 2 weeks – (and still further fat loss expected in her final week of her 3 week program) demonstrates that the HCG Protocol diet one of the most efficient rapid fat loss methods available.
SUITABLE FOR BOTH MALES
If you have a certain event that you would like to look your best for, or just want to get more enjoyment out of your every day life, then call us on 0405 505 498 to book an obligation free consultation (in person at one of our 3 Melbourne based clinics or anywhere Australia-wide via Skype) – or simply complete our on-line evaluation form at: https://hcgprotocol.com.au/evaluation-form/