Oil Free Skin Care, Make-up & Hair Care
 
Oil Free formulations for use during the HCG diet
A peculiar feature of the hCG diet is an extreme sensitivity to even very minor increases in nutritional intake, which, if ignored, may interfere with maximising your results – so even fats, oils, creams and ointments applied externally to the skin are absorbed and may interfere with weight reduction by HCG, just as if they had been eaten.
You will never know how much weight you could have lost by not abiding this one important point. In fact it is amongst one of the primary things we examine if your weight loss stops or hits a plateau.
If you typically use luxury creams and lotions everyday, this may feel like a bit of an adjustment, however under treatment with hCG normal fat is restored to the skin, so does not seems to result in the same loss of facial and body skin tone, which often occurs using other traditional methods of weight loss.
The cosmetics suggested in Dr Simeons original hCG Diet Protocol are: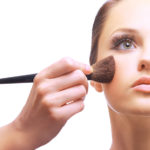 Mineral Oil
Lipstick (includes lip-gloss, but excludes lip balms)
Eye Brow Pencil
Mineral Powder & Mineral Eye-Shadow
Any lotions that are entirely free of fatty substances.
Conditioner and styling products may still be used on your hair, but do not rub into the scalp.
With the abundance of natural and organic skincare products available today, these can often be your best option. Look for ingredients such as Aloe Vera, Tea Tree, Sandalwood, Turmeric, Chamomile, Cucumber, Green Tea and Lavender extracts, which are oil free and moisturise and tone your skin naturally.
For those concerned with Anti-agening, some of the best skin treatments are oil free, including: Hyaluronic Acid, Vitamin A (Retinol), Vitamin B (Niacinamide) Vitamin C and Aloe Vera (when selecting, just check the formulation for other ingredients that may include oil).
Also avoid oil based make-up. Only wear water and mineral based cosmetics.
To help cut down on time for you to get started on your HCG diet program without a concern if your own products are suitable, see HCGPROTOCOL HCG Diet Oil Free Skincare & Make-up for a list of some suggested oil free products that are readily available.
Please note: As "HCG Drops" do not work in exactly the same way as the real HCG hormone, please do not take recommendations from others who may suggest Coconut Oil, Almond Oil or Castor Oil are suitable for use during the HCG Diet, as these will almost certainly compromise your results.