In the Press
There is a lot of information on the Internet and in the news about hCG. The vast majority of it telling stories of amazing fat loss, especially from those for whom other weight loss methods have failed in the past. However, a note of caution, there is also a lot of debate and scepticism surrounding the use of homeopathic drops, which only contain trace amounts of hCG.
hCG is offered by a number of different providers and comes in various forms, so it pays to ensure you recruit the services of a clinic that has extensive knowledge of the hCG protocol for weight loss.
The famous TV doctor – America's Dr Oz – has covered hCG on numerous occasions, the latest resulting in this published paper on a clinical trial of hCG Injections versus a placebo, which clearly show the weight loss AND muscle sparing effect of hCG – a key to keeping weight off in the longer term: 
http://www.doctoroz.com/videos/hcg-diet-research-study?page=2#copy 
Another Dr Oz article that thoroughly covers the pros and cons appeared in First for Women Magazine in June 2011:
First for Women Magazine_Dr Oz Interview on HCG_27 June 2011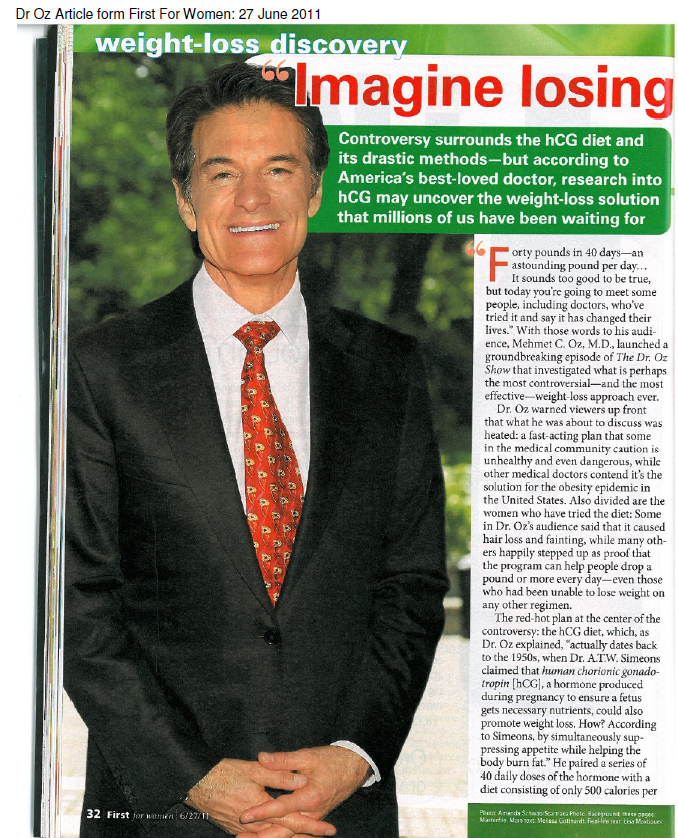 With such glowing endorsement of the positives, hCG has become the top selling weight loss product in the United States and word has quickly started to spread around the world.
The good news for you is that is is now available here in Australia. We are conveniently located in Melbourne inner south eastern  suburbs. Contact Us on 0405 505 498 to book a  free consultation to see if this program is right for you!