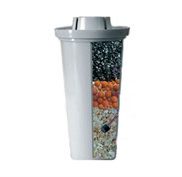 Give your body the alkaline hydration it deserves – anytime, anywhere!
1 x Refill Filter Cartridge: $29.00
The Waterman is the unique portable solution to safe drinking water. Its central cartridge contains alkaline minerals, magnets and activated carbon filter medium. It re-mineralises and ionises ordinary tap water while filtering out chlorine, heavy metals and bacteria. The Waterman is easy to use. Simply fill it up, drink it down, or take it with you to immediately enjoy the benefits of fresh alkaline hydration on the go. The Waterman makes it easy to drink two litres of good water a day.
How to prepare your Waterman Pot filter for first use:
https://youtu.be/mU62g46yeXc
Read More
Waterman Alkaline Mineral Pot 600ml capacity
Color: 1 color as shown
Enjoy pure, clean alkaline mineral water anywhere, anytime. The Waterman Alkaline Mineral Pot is designed to improve the quality of your tap water. Either at home or when out and about, you can quickly and easily have access to fresh water as nature intended, anywhere, anytime.
Water is vital to life, but during a detox, such as that which occurs on the HCG Protocol for fat loss, it is even more vital – not only to increase your consumption to aid in the internal processes, but also that the water is from a pure, trusted source. An extra beneifit is that your water will costs you only a fraction of that paid for bottled waters.
How to prepare your Waterman filter for first time use:
https://youtu.be/mU62g46yeXc
Read More