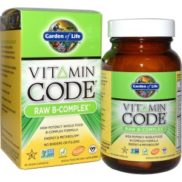 Vitamin Code RAW B Complex
High Potency Whole Food B-Complex formula
Boosts Energy and Metabolism
60 Vegan Capsules
There are a number of different B vitamins which individually have different roles in our health - collectively they are referred to as vitamin B complex — B1, B2, B3, B5, B6, B7, B9, B12 — and all play important roles in keeping our bodies running well; from helping convert food into fuel, allowing us to stay energised throughout the day to promoting healthy skin and hair and aiding in our ability to deal with stress.
They also play a role in metabolism and supplementation can be a great addition to your weight loss regime if your diet is not necessarily giving you the variety needed to get all 8 B's on a regular basis.
Vitamin Code Raw B-Complex is whole food nutrition, specifically formulated to include high potencies of 8 whole food complex B vitamins from a blended base of 23 organically grown fruits and vegetables add supporting antioxidants. They also include live Probiotics and enzymes to support healthy digestion.
High Potency

Raw Whole Food Supplement

Live Probiotics & Enzymes

23 Organically Grown Fruits & Veggies

No Binders or Fillers

Kosher

Non-GMO Project Verified

Gluten Free

Raw

Certified Vegan

No Binders or Fillers

Aids Energy & Metabolism

Mental and Physical Energy

Heart and Blood Health

Healthy Response to Stress

Live Probiotics and Enzymes
Suitable for both Stage 3 and Stage 4 of your hCG Diet program.
Updating...