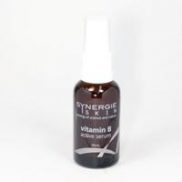 Vit-B active serum
Oil Free Skin Care treatment and moisturiser
Size: 30ml
To optimise weight loss results whilst undergoing the active hCG cycle, it is mandatory to not only refrain from internally injesting fats or oils –it is also recommended you restrict the use of oil from external sources, such as your skin care and make up.
Synergie Minerals
Synergie Minerals, pride themselves in not only having highest grade active ingredients, but also those that are scientifically effective free of any toxic substances, so that you can be sure that in selecting Vitamin B active serum it meets all of the required criteria for your weight loss and health goals:
Oil Free

High grade active ingredients

Beautiful to use with visible results

No questionable substances
No Parabens, No Artificial colors or fragrances, no mineral oil, no SLS, No PEG or Propylene glycol
Vitamin B active serum
Vitamin B serum contains Niacinamide (Vitamin B3), the latest multi-tasking cosmeceutical designed to rejuvenate and strengthen skin. Vitamin B serum is indicated for a broad range of skin conditions, such as dehydration, blemishes, pigmentation and dull, lifeless skin. You may have read latest scientific research which advocates the most effective skin care routines include Vitamin A and C and in the most stable and bioavailable forms. Scientist have now discovered however that Niacinamide should be added to this list of daily "essentials". You don't have to give up everything just because you are on your journey to a new you! Use with confidence as part of your daily and/or nightly skin care ritual.
Updating...