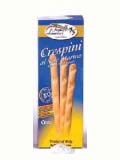 Description: Ribbed Bread Stick with a touch of Sea Salt
The hCG Protocol for weight loss allows for a balanced combination of lean protein, complex carbohydrates, fruit and vegetables.
The complex carbs are to be selected from either a grissini stick or melba toast (2 separate servings per day).

There are a lot of grissini sticks on the market, some very inexpensive – and it is a matter of "you get what you pay for".
If you want to enjoy every mouthful that you are allowed to eat on the hCG Protocol for weight loss, we strongly recommend you to try these wonderfully tasty, crisp and fresh grissini sticks. Ribbed and with just a touch of sea salt.
Baked not fried
No colorings
No Trans Fats
No preservatives
2 boxes will be adequate for a 3 week cycle (however with how delicious they are, we can't promise you that you will not wish to keep eating them once you complete your program, or that other friends or family members may pinch some along the way).
Unlike other brands, they are less likely to have broken pieces found in the box. That is also why we do not ship this item, however they can be ordered and collected from the clinic.
Updating...