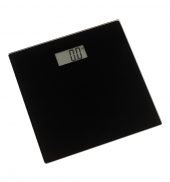 Color: Black
When you are on the hCG Protocol for weight loss you will be visiting the clinic for a weekly review and weigh-in, however upon completion of your active cycle, if vitally important that you weigh yourself first thing each morning and take appropriate action if you see a weight gain of 1kg or more. This will work towards helping to retain your new weight on a more permanent basis.
If you have over-indulged it may not show up as inches (i.e. tighter clothes) right away, but can usually be detected in your weight – so by acting quickly you can soon be back to normal weight and eating habits. You can only do this if you weigh yourself each day.
Measures in 100gm increments up to 180kg.
Small and light enough to travel with you if necessary.
Available in a choice of Black or Silver. Select the one that best suits your taste and décor.
Updating...