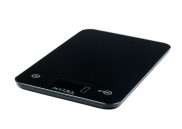 23cm x 15cm x 1.75cm
Measures up to 5kg/1gm increments
Color: Black
When you are on the hCG Protocol for weight loss protocol, it is vitally important that your lean protein intake is kept to no more than 100gms for each of your 2 daily meals.
This is not something that you can trust to your local butcher or favorite fish monger. To ensure that you are fully optimising your weight loss, ensure you reliable kitchen scales on hand at all times.
Measures lbs, mls, fl oz or gms, in 1gm increments up to 5kg. A handy addition to your kitchen both during and after your weight loss program.
Small and compact enough to travel with you if necessary.
Square design available in Red or Black
Round design available in either Fuschia Pink or Stainless Steel.
–Select the one that best suits your taste and decor!
Updating...