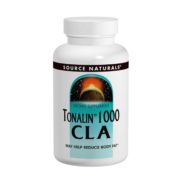 Conjugated Linoleic Acid (CLA)
 by Source Naturals
Tonalin CLA 1000mg
120 Softgels
Description: CLA is found naturally in our diets in the fatty parts of animal proteins, such as grass fed or pastured meats and free range poultry, dairy and eggs - however with many of todays diets recommending reduced saturated fats, this vital nutrient is often missing.
Tonalin Conjugated Linoleic Acid (CLA) is a fatty acid derived from safflower oil. Tonalin's potential benefits are cited in U.S. patent 5,554,646, which states that CLA plays a role in reducing body fat and increasing body protein (muscle) in animals. CLA Research indicates that inclusion of CLA in the diet has a host of benefits, that include:
Enhancing metabolism
Building muscle mass. CLA helps people reduce body fat and increase lean muscle mass in people who exercise
Lowering your cholesterol and triglycerides
Use in preventing and treating diabetes by lowering insulin resistance.
Boosting your immunity
CLA has also been shown to have the ability to reduce the potency of the dangerous carcinogens that cause cells to mutate
Suggested Use: 2-3 softgels daily with meals, or as recommended by your healthcare professional.

Other Ingredients: Contains no yeast, dairy, egg, gluten, corn, soy or wheat. Contains no sugar, starch, salt, or artificial flavor or fragrance.

Warning: If you are pregnant or breastfeeding, consult your health care professional before using this product.
Supplement Facts
Serving Size: 3 Softgels
Servings Per Container: 40
Amount Per Serving
%DV
Calories
30
Calories from Fat
30
Total Fat
3 g
5%*
Saturated Fat
0 g
<1%*
Trans Fat
0 g
†
Conjugated Linoleic Acid (Tonalin)
2.22 g
†
*Percent Daily Values (%DV) are based on a 2,000 calorie diet.†Daily Value not established.
Updating...